Paintless Dent Repair (PDR) at Anderson Auto Group
Paintless Dent Repair (PDR) is an efficient way to fix dents and imperfections while paint is intact and uncompromised. At Anderson, we carefully handle each dent to smooth and repair them to a like-new finish. Our team has years of experience in handling dents in the best possible manner. When PDR is an option, we'll take care of it and have you back on the road with minimal aesthetic imperfections.
We'll get back to you in a timely manner and have you fixed up and ready to go quickly and efficiently. When you work with us, we make sure to keep you informed along the entire repair process. While each dent may not be a candidate for PDR, we do our best to correct every dent in the best possible manner, while keeping you updated throughout the process.
If you're unsure if Paintless Dent Repair is the right fix for your car, we are here to help! We'll walk you through the process and educate you on the options available to you. Feel free to schedule your appointment online. Our team will get you set up, your car fixed, and have you back behind the wheel in no time. We look forward to speaking with you soon!
What is Paintless Dent Repair?
PDR is the process of removing small, minor dents from your car's body without the invasive process like traditional dent fillers and repairs. Typically PDR is a much quicker and cheaper than the alternative processes that body shops offer. Dent's often don't pose a threat to your car's safety, so this process is simply for an aesthetic fix. That being said, keep in mind that PDR simply provides a visual fix, but cannot completely repair your car's metal damage done beneath the paint surface. While it appears to be in perfect shape, the metal will still be slightly damaged underneath, which honestly won't affect the car in most cases anyways.
Paint, Chip, And Scratch Repair
Windshield Chip Repair
Windshield Repair & Replacement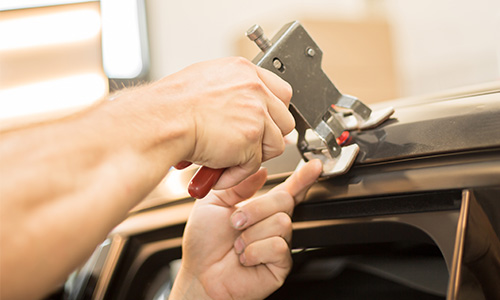 Paintless Dent Repair (PDR)